IWA RINGSIDE MAGAZINE (updated 12/1)
"We are all waiting for Gold to drop, so first thing, check out the 148th edition of the IWAR Mag, and then take the time to submit your nominations for the year-end awards." (The SurveyMonkey page will open in a new browser window. The IWA is not responsible for its content.)
"Your nominations will help us finalize the official nominees for each league's Annual Awards, so take a few minutes to help honor those who have helped make 2020 so memorable. Speaking of, 'The Trust Fund' Carson Wingate graces the cover, and we tip our cap to him for winning the IWA's King of the Ring in November. We have the finals set for the final round of action in the Fall events, the IWAR Women's Report, league reports, rankings, FAQs, and the latest round of IWAR World title results:"
IWAR World: Joe Boring (CWL) d. Neo Dragon (IWL)
IWAR World Tag: Prince Ton & Jimmy Electric (IWL) d. White Claw Outlaws (BBL)
IWAR Women's World: Barb Dwyer (BRL) d. NSFW Gina Colada (BRL)
IWAR Revolution: Punk Rock Mike (BRL) vs. winner of Bound for Glory
"We have the IWAR Tubecasts that review the results from last cycle, the Gold Strategy Workshops which help prepare you to put together your best strategy, and if you are craving more wrestling fun, the RetroWrestling Games YouTube page has hours and hours of fun to check out. If you like Marvel's 'What If' series, then you'll enjoy the AWA 1990 Project, which looks at how wrestling would have been different if the AWA had not spiraled into bankruptcy, but instead stocked its roster with free agent stars that would have saved the company." (The YouTube page will open in a new browser window. The IWA is not responsible for its content.)
"Thank you all for choosing the IWAR Network and making the game so much fun. Help us help you beat cabin fever with the IWA. If you haven't joined up yet, stop and check out the BBL, BRL, CWL, IWL, and NWL to see what you are missing."
-- IWAR Commissioner Matt Riley
For the latest issue, right click HERE and choose "Save Target As..." (you will be downloading a PDF file with a size of 4.9MB).
THE BRONZE AGE (updated 11/30)
"Please accept my apologies for the November issue being posted so late. Nevertheless, there's tons of good information inside, particularly the update that ninety-two wrestlers have entered the Kingdom Battle event. The first-round matches will be announced next week in the December edition! There are other places to play this great game, but we want to thank all the BA managers who make what we do together so successful with their awesome storylines and characters!"
For the latest issue, right click HERE and choose "Save Target As..." (you will be downloading a PDF file with a size of 1.9MB).
UNL BULLETIN UPDATED
The commissioner's report has been added to the PDF, which is available HERE.
A TRULY SENSATIONAL OFFER
"Oki Ni-Kso-Ko-Wa! Commissioner Ty Tann here for the NSL -- Native Sensation League. We have reached the 400 milestone in the league's existence, and we'd like to cordially invite you to take part in the celebration. This upcoming December cycle only, anyone spending the match deal ($12) or more in the NSL will get 4 matches for $1 and can send one wrestler against the bottom 40 for FREE! What better time to be a part of one of the longest-running leagues in the history of the IWA? Till then, A'ho."
NO MAN'S LAND AWAITS...
Enjoy up to 25 free wrestler creations and/or transfers to the NML for the rest of 2020!
The No Man's League has raised its limit of wrestlers per manager to the standard amount, and transfers are not only allowed, they're encouraged! In addition to its champions competing for all our major ladies' titles, the league champion gets a shot at the International belt every cycle.
Could this Diamond Federation league be your ticket to gold? You'll never know unless you join -- for free!
BREAKING NEWS FROM THE UNITED NATIONS (LEAGUE)
The good news is that the UNL now allows more than two wrestlers per manager, and transfers are permitted for the first time in the league's history. The great news is that transfers and wrestler creations are free for the rest of this year!
Click HERE for details, and to see a list of other reasons to try this top-notch league.
SO THAT OTHERS MAY LIVE...
"Be sure to check out the latest edition of the Danger Zone Magazine!!! The official magazine for the Flying Aces League, a carefully-crafted, trash talk-based league that is invite-only in the Diamond Federation. Inside this issue, we will have our usual action-packed FAL news, contests, and more, plus a special page honoring veterans, and those currently serving, that sacrifice so we can enjoy the life we live..."
NO TRICKS, ALL TREAT
Create or transfer up to 25 wrestlers for free! Join the reanimated CFL during its first three cycles, and find out why this league never seems to stay buried for long. We recommend sending us your info by the morning of October 14th to take advantage of the free battle royal entries in bulletin #1. After the third cycle, our standard transfer and creation fees will apply, so act fast.
Click HERE for more details... if you dare!
WHAT?! FREE MATCHES FOR USING FREE TRANSFERS?!
It's true! Transfer up to 6 wrestlers to the GWL for free during the next 3 cycles, and you'll receive 5 free matches! (The free matches must be used in the GWL the first cycle you are active. Remember that the Global Wrestling League has a wrestler limit of 6, and stable initials are not allowed.)
Has there ever been a better time to go Global?
UPDATE: You may also create up to 6 wrestlers for free!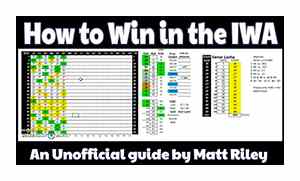 THE UNOFFICIAL HOW TO WIN IN THE IWA GUIDE
Learning the ropes in a game where those ropes are imaginary can be confusing, but this unofficial How to Win in the IWA video is here to help. Join IWAR and BRL Commissioner Matt Riley as he walks you through the fundamentals of the game to help you get a better grasp of the IWA.
Click HERE for the YouTube page. (This link will open in a new browser window. The IWA is not responsible for its content.)
SPECIAL EDITION OF THE IWA RINGSIDE MAGAZINE (updated 7/11/17)
"The Unofficial History of the IWA, as brought to you by the IWA Ringside Magazine. This special edition is loaded with pictures, stories, and nostalgia from over 30 years of the IWA."
For this issue, right click HERE and choose "Save Target As..." (you will be downloading a PDF file with a size of 14.1MB).
---
GO GREEN
The current bulletins from all our leagues are now available on our League Champions page. These PDF files are updated the same day the federation results are posted and include everything the snail mail versions have, with the added bonus that some feature trash talk pages in full color.
Match results are also available in HTML format from that same page.
If you want us to continue providing results this way, contact Kimberly and tell her you'd like to "go green." We'll stop sending you printed bulletins, which will help keep our prices low, and you'll get the warm, fuzzy feeling that comes from knowing you just helped save the planet. Everyone wins!
EMAIL REMINDERS
Keep a copy of every email you send us. If you do not receive a reply within 48 hours (not counting Saturdays, Sundays, and holidays), resend your message. Kimberly replies to all legitimate email.
Also, make sure to email any matches, strategy changes, etc. at least 24 (and preferably more than 48) hours before your league will be processed.
RANKINGS AND ACTIVITY CHANGES
Your wrestler's number of stars, current point flow, and previous strategy total are now used as additional tie-breakers in our league rankings system. The new progression is as follows: activity status (active or inactive -- see next paragraph), having at least one win, number of wins over losses, total number of wins, number of stars, amount of imaginary money, number of ties, point flow, and strategy total from the previous cycle.
Also, each wrestler must initiate a one-on-one match to be considered active. Tag-team matches, six-man matches, and battle royal entries do not count toward activity. Inactive wrestlers cannot compete for major titles, so if you'd like to see your grappler's name in the IWA Report, don't forget to have him sign at least one singles match!
NEW ROOKIE LEAGUE POLICY
From now on, managers may not create new wrestlers or transfer existing wrestlers into rookie leagues without permission from both the league commissioner and IWA Management. This protection does not expire after a certain number of cycles: it ends when it is agreed that managers in the league are ready to compete against more experienced players.
We hope this change will provide those who are new to the game with a chance to hone their skills on a more even playing field.
The Special Leagues page contains a list of our rookie leagues.
AN EXCEPTION TO OUR STABLE INITIALS POLICY
Our policy against changing stable initials after a league has been processed, but before The IWA Report has been published, failed to address the special nature of the World Wrestling League. Since this league does not allow stable initials, managers are prevented from gaining recognition for their group on an IWA-wide basis should they win a major title.
Attaching stable initials in The Report alone should have zero impact on in-league angles and storylines, since the WWL doesn't even use them (and by "them" we mean stable initials; the WWL certainly uses angles and storylines!). Because we are also able to afford our snail mail players the same option, we see no reason to prohibit managers from having Report-only initials in this league.
Several members of the WWW stable pointed out this shortcoming in our policy, although it just as easily could have been any other stable had its wrestlers won major titles from that league. We're glad this special circumstance occurred at the beginning of the year since it allows all groups to start on equal footing. (Remember that the January issue of The IWA Report actually lists the major champions from the final cycle of the previous year.)
NEW POLICY FOR CHANGING NAMES AND/OR STABLE INITIALS
Effective immediately, wrestlers may only change their names and/or stable initials at the time their league is processed. As usual, Kimberly has been too nice in honoring requests, and we feel the situation is getting out of hand. Allowing these changes to occur between bulletin mailings can create confusion, and leave managers who choose to play via snail mail feeling "out of the loop" or like less-valued members of our wrestling family.
We want to use the Internet to provide conveniences for all who play our game, but that must be balanced with keeping the emphasis on the league bulletins -- where the action is! When wrestlers are permitted to change these attributes between bulletin mailings, it makes online activity just as important as league activity; it's as if time doesn't "pause" between bulletins #34 and #35 like it should, but instead continues on in some arena that exists only on the Internet. That's obviously not fair to our snail mail players.
So from now on, wrestler information must remain a reflection of what is printed in the league bulletins. This should ensure that everyone -- whether online or not -- will be on the same page. You can decide for yourself if that was intended to be a pun. :)
BOOKMARK THIS PAGE!
Add it to your Favorites so you can return easily.